Today's prize is provided by yours truly! I am giving away an E-book of
Whisperings Paranormal Mystery Volumes One, Two, and Three by Linda Welch!!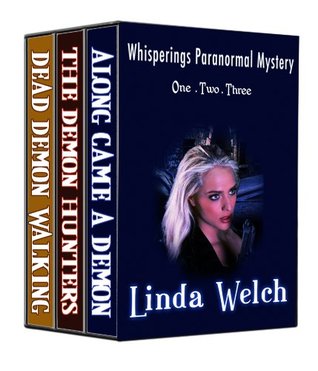 No Prince Charming, (Secrets of Stone Book 1)
by
+Angel Payne
and +Victoria Blue
No Prince Charming is a contemporary romance that just blew my socks off! I fell so in love with all the right characters and hated the deserving ones!!
The story is about Claire Montgomery. Claire works at a major PR Firm that just so happens to be owned by her soon-to-be-step-mother, Andrea Asher. Andrea and her daughter, Margaux, are two peas in a pod with their attitude toward Claire. Claire is like the step child from Cinderella, and she unfortunately has to play nice because Margaux has dirt on her that will destroy her career and her relationship with her father.
The PR firm Asher and Associates is hired for a job in Chicago by a major global corporation, Stone Industries. The Stone family has old money, greedy friends and rock star status for the three Stone boys Killian, Trey and Lance. With their father up in years, the business is to be taken over by these three stooges. Trey has started trouble for the family again, so Andrea and her team need to act with haste.
Once they arrive, Margaux has already planned her attack to score with Killian, and no one really cares until Killian shows interest in Claire and shrugs Margaux's advances off. So what I'm trying to say about my favorite moment is, with this book there are several favorite moments, all having to do with Margaux. Margaux is hateful, and I just didn't feel sorry for her at all when her advances were thwarted by Killian on several occasions. She totally deserved the rejection for the slut she was and the humiliation from her peers for acting like a nasty whore! I truly felt justice was served, for the most part, with Margaux.
For those of you who haven't read this book (or book two) it gets even better after this book, if that is possible, right! I have loved this series thus far and can't wait for another one please :) So please share your favorite book scene with me on my Facebook page to be entered in this giveaway!
Return to Paranormaly Yours on Facebook to enter:
For Mobile devices:
http://m.facebook.com/paranormalyyours
For Other:
http://www.facebook.com/paranormalyyours